Tuesday, January 24th, 2012
On Sunday we went to Kona Kitchen for a late breakfast. After we ordered, our server brought over some crayons for the girls, along with several pages taken from a coloring book. I love it when restaurants do this. I love it when they bring coloring supplies, and I really love it when it's not the whole coloring book but some fresh pages torn out instead. When it's the whole book, it can be hard for the girls to find a page that hasn't been scribbled on, and also I sit there wondering how many kids have sneezed on it. Bleah. But when just a few (fresh, clean) pages are brought, there are no such problems. (Why yes, I am a bit of a germophobe. I'm working on it though. Dirt is good!)
So the two girls were sitting across from each other, coloring away. The 5 year old finished her picture and then wrote her name on the paper. Then, to be helpful, she wrote the 2 year old's name on her paper, while the 2 year old was still coloring on it. So, she wrote it upside down. Sort of: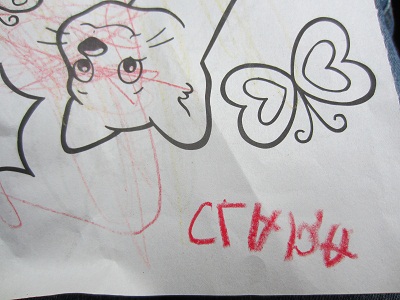 When viewed right side up: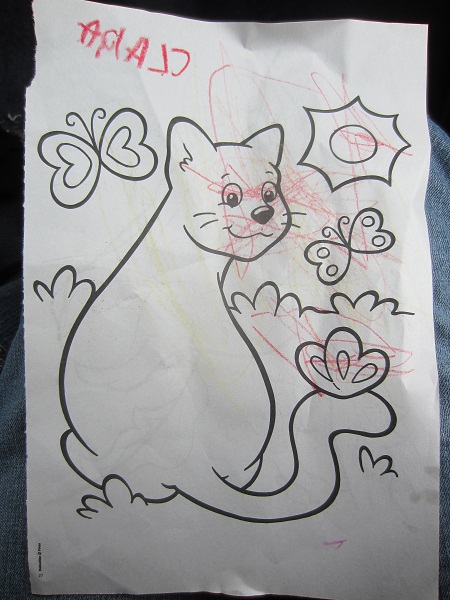 Awesome.
_________________________
When she was littler, the 5 year old used to say upside up instead of right side up. It was one of my favorite inventions of hers. Now that the 2 year old is talking more and more, I can't wait to see what kinds of words she invents.